The Chinese believe that weddings are the most important ceremony in life, so they attach more importance to weddings than other celebrations. Chinese weddings have very complicated ceremonies and special costumes, which are often very grand.
How do Chinese marry?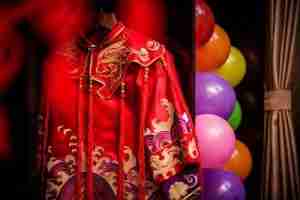 Marriages were often arranged by neighborhood and work committees rather than by parents. Under these terms many Chinese were able to seek out mates in their community or work place and seek approval of authorities. In other cases authorities told people who they would marry.
There are ceremonies such as the bride presenting wines or tea to parents, spouse, and guests. In modern weddings, the bride generally picks red (following Chinese tradition) or white (more Western) for the wedding, but most will wear the red traditional garment for their formal wedding banquet.
Traditionally, brides became a part of their husband's family and essentially cut ties with their natal families with special emphasis placed on a wife's ability to produce a male heir. As arranged marriages were customary, husband and wife often did not meet each other until the day of the wedding.
what happens in a chinese wedding?
Six etiquettes then led to the final wedding ceremony.
Proposing: when a boy's parents intended to make a match, they would invite a matchmaker to propose with them at the girl's home. It was the custom that the first time matchmaker went as a guest they could not be served tea in order not to 'lighten the marriage'. If the proposal was successful, however, the matchmaker (usually a woman) would be rewarded with profuse gifts and feasts to show the two families' gratitude. Many unmarried young people could not see and were unfamiliar with each other till their wedding day.
Birthday Matching: after knowing the girl's full name and birthday, they would ask a fortune teller to predict whether that could match their son's and whether there would be a happy marriage. The Chinese zodiac would be surely taken into consideration.
Presenting Betrothal Gifts: if the match was predicted to be auspicious, the matchmaker would take gifts to the girl's parents and tell them that the process could continue.
Presenting Wedding Gifts: This was the grandest etiquette of the whole process of engagement. Prolific gifts were presented again to the girl's family, symbolizing respect and kindness towards the girl's family as well as the capability of providing a good life for the girl.
Presenting Wedding Gifts Selecting the Wedding Date: the boy's family asked the fortune-teller to choose a date according to the astrological book when it would be proper and propitious to hold the wedding ceremony.
Wedding Ceremony: the wedding ceremony began with the groom and his party meeting the bride in her home. Before this day the bride's dowry would have been sent to the boy's house. The dowry represented her social status and wealth, and would be displayed at the boy's house. The most common dowries included scissors like two butterflies never separating, rulers indicating acres of fields, and vases for peace and wealth.
Before the meeting party's arrival, the bride would be helped by a respectable old woman to tie up her hair with colorful cotton threads. She would wear a red skirt as Chinese believed red foreshadowed delight. When the party arrived, the bride, covered by a red head-kerchief, must cry with her mother to show her reluctance to leave home. She would be led or carried by her elder brother to the sedan. In the meeting party the groom would meet a series of difficulties intentionally set in his path. Only after coping with these could he pass to see his wife-to-be.
Ancient Chinese Wedding On the arrival of the sedan at the wedding place, there would be music and firecrackers. The bride would be led along the red carpet in a festive atmosphere. The groom, also in a red gown, would kowtow three times to worship the heaven, parents and spouse. Then the new couple would go to their bridal chamber and guests would be treated to a feast. Wine should be poured to the brim of a cup but must not spill over.
On the night of the wedding day, there was a custom in some places for relatives or friends to banter the newlyweds. Though this seemed a little noisy, both of them dropped shyness and got familiar with each other.
On the third day of the marriage, the new couple would go back to the bride's parents' home. They would be received with also a dinner party including relatives.
Of course, marriage customs differed by region, but these were the most common. They have been maintained for thousands of years, but in recent years (especially after the founding of modern China), people have tended to discard some of the details and advocate simplified procedures and wedding ceremonies.
What are traditional chinese wedding clothes?
What is a Chinese wedding dress called?For a northern Chinese bride, the wedding dress is generally a long, form-fitting, one-piece gown called a qipao or cheongsam. … In Southern China, the wedding dress (hung kwa) is often two pieces: a long, decorative jacket over a long, embroidered skirt.
What does the groom wear at a Chinese wedding?The Groom. The groom's attire is not as complicated or as elaborate as the bride's. Usually, he wears a black silk coat, known as a mandarin, over a dark blue robe embroidered with a dragon. The traditional cap is black with red tassels.
What color should you not wear to a Chinese wedding?
Avoid wearing red to a Chinese wedding. Often, brides will wear two dresses during a Chinese wedding ceremony: one white and one red, so you don't want to steal her thunder in a red dress. You should also avoid wearing black to a Chinese wedding, as black is considered bad luck to the newlyweds.
What is a traditional Chinese wedding gift?
In addition to red envelopes, jewelry is also a common traditional Chinese wedding gift, and gold jewelry is an especially desirable wedding gift. … Traditionally, gold accessories and jewelry are usually given to the bride by the elders from both sides of the family at the tea ceremony.
As visitors to the wedding, you usually will give a red envelope to the bride and groom, with money inside it. Make sure you do not put anything in multiples of four, as four is an unlucky number in China. There are some more requirements.
In almost every Chinese wedding, you'll be given wedding candy, often in beautifully packaged candy boxes, personalized for the couple's taste. Not only do these wedding candy and candy boxes add to the festive wedding atmosphere in each ceremony, but they also represent 'happiness,' and 'sweetness' to the wedding guests.
Giving out candy to friends and family represent that the couple wants to share the festivities and get everyone's blessings. Generally, the four common candies are chocolate, rock sugar, melon candy, and smaller cookie candies. These are the traditional symbols of sweetness in a marriage.
chinese wedding tradition combing hair
A common tradition present in Chinese weddings, hair combing represents the transition of the groom and bride from childhood to adulthood. … Prior to combing the hair, the couple should bathe in water with pomelo leaves, as this is believed to help remove evil spirits.