What Does The Dragon Symbolize In China? -9 Types
Posted On July 2, 2021 / Written by yelang
If you have been to China or seen different pictures of the country, you'll notice one thing stands out the most – dragons. You'll find dragons incorporated in different architecture in China from colorful paintings to huge and majestic statues. They are also incorporated in many of the Chinese festivities, like Dragon boat racing or the Dragon dance is done on almost every occasion.
Dragons hold a very important position in China. In this post, we are going to look at what the dragon symbolizes in Chinese culture and the mythologies that surround it. We'll also look at the different types that exist and what they stand for.
Why Dragon Is Famous in China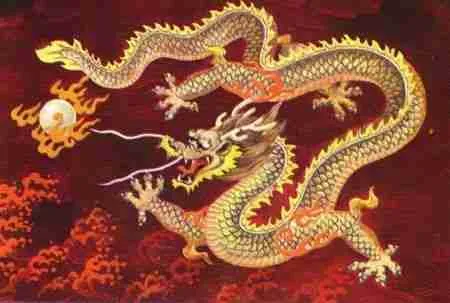 Unlike in Western cultures where Dragons are protagonist creatures in every story, in China, they are considered benevolent and majestic creatures that are kind and bring luck. The dragons are considered important because they are believed to be present during the earth's creation according to the Chinese.
The Chinese believe that the goddess Nu Kua, who was part dragon, created the earth. She then put up four pillars with a dragon at the top to hold up the heavens. The goddess then created humanity, meaning the Chinese were directly linked to dragons from the very beginning. After the great floods caused by the Dragon kings, Nu Kua came back to earth to repair the damage. She released a legion of dragons to walk among people and aid them. They maintain that after humanity was created, dragons lived among the people teaching them essential skills to survive. The dragons are considered angels of the Orient and represent the balance of all things in the world.
It is also believed that a dragon helped the Yellow Emperor of the Han dynasty, the first imperial line in Ancient China, to begin the prelude of Chinese civilization. The Yellow Emperor was believed to have worked with Yandi a legendary tribal leader, born through his mother's strong telepathy with a mighty dragon. So, you see, the dragons seem to have played a big role in China's evolution. That is why they were used as symbols for the Chinese emperors and later among the twelve symbols of the national emblem of the Republic of China.
Why Is the Dragon A Symbol of China?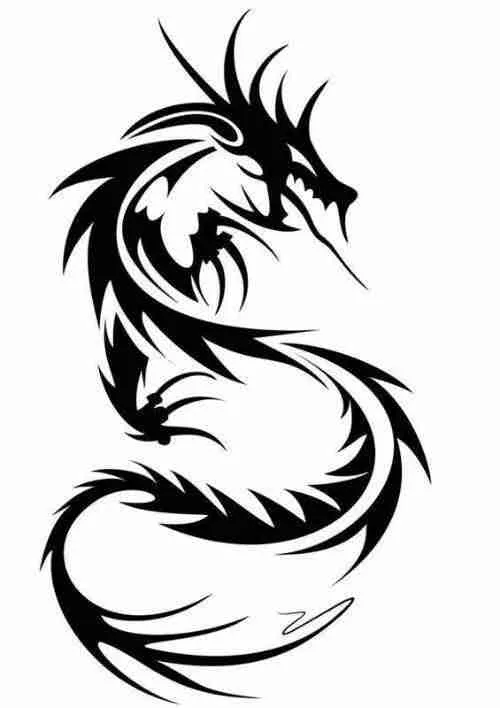 As mentioned, in Ancient China, Emperors used dragons as their symbols. The dragon was a symbol of the divine power of the emperors and their mighty rule over the land. The Yellow Emperor was even believed to have been reborn as a dragon after his death.
The emperors especially used the yellow/golden dragon with five claws as their symbol. The princes and other royal male members used dragons with four claws as their symbols. The wives and empresses of the emperors used the phoenix as their symbolism. This was because Feng Huang (a phoenix-like bird) ruled over all birds, and was seen as the perfect feminine entity to be paired with the Dragon.
These symbols were embroidered in their robes which they wore as a sign of honor. For these reasons, only a select few outsides of the royal family were permitted to adorn dragon robes and jewelry. The common subjects also had dragon paintings and other artifacts in their homes as a symbol of good luck and fortune.
These symbolisms and culture have been carried forward to today, where the Chinese still use the dragon as a symbol of excellence and power. Although it's no longer a part of the twelve symbols of the national emblem of China's flag, it is still an important symbol. The Chinese still compare outstanding and successful people to dragons, because dragons represent traits many Chinese admire and wish to emulate.
What Does the Dragon Represent in Chinese Culture?
The Chinese dragon is also known as Lung, Loong, or Long. In Chinese culture, mythology, and folklore, it is considered to be a legendary creature. Unlike in western cultures, the Chines revere the dragon which is seen as benevolent symbols in their culture. According to the Chinese, the dragon is said to resemble many animals. It's described as having a long tail like that of a snake, with scales like fish and claws similar to those of hawks. They also have antlers like deer's, a nose similar to a dog's, a big mouth like a bull, whiskers that resemble a catfish's, and a mane around its face like a lion's.
In Ancient China the dragon was seen to represent, divine power, strength, good fortune, and success. That is why dragons were used to symbolize Emperors. Based on the dragon's attributes, they symbolized the emperors' nobility, dignity, and wisdom, depicting them as courageous heroes to their subjects. Traditionally, the Chinese also believed that dragons were auspicious powers that had power over the water element and are believed to reside or have resided under large water bodies. They were believed to have power over any body of water, from lakes, rivers, seas to waterfalls. As powerful water spirits, they could command rains, floods, and typhoons. As such, they were seen to have power over seasons and harvest.
Today, the dragon has become a mascot of the Chinese culture representing the people's pioneering and unrelenting spirit to keep up with the changing times. Based on past beliefs, the dragons generally symbolize the following in Chinese cultures today:
Nobility. Because dragons were used to symbolize the emperor, anyone born in the Year of the Dragon is considered to be more noble and prosperous than the rest. They are considered to be wise, decisive, confident, and strong-willed.
Good fortune. These mystical creatures were believed to be a source of good luck to those they favored. Today, Chinese engrave dragon depictions on their items or as tattoos to attract success and good luck.
A sign of kindness. In western culture, dragons are depicted as aggressive evil creatures that breathe fire. On the other hand, the Chinese view dragons as beautiful creatures that are symbols of warmth and kindness. This is related to the belief that dragons were sent on earth to aid humans.
Masculinity. In the past, men were considered more dominant and influential in the community. As such, they were seen as the mystical manifestation of the dragon. Today, dragons are still used to symbolize male vigor and fertility.
Agriculture. These water spirits are believed to have control over the weather. The male dragons are said to have the power to fly to the heavens and bring rainfall. Hence those who believe in them and worship them, normally pray to them for rain and a good harvest.
Different Types of Dragon Colors and Their Meanings.
According to Chinese Mythology, dragons were beautiful and colorful creatures. Each of their colors carried a special meaning in Chinese culture. The following are the most notable colors and what they symbolize:
Green and Blue.
Blue and green are generally associated with growth, nature, and serenity in Chinese culture. The green and blue dragons were normally the Eastern dragons and they symbolized the beginning of spring, with clear skies and new growth. They were also seen to symbolize health, harmony, and prosperity. As such people looked at them as representations of healing, peace, and rest. They also represent the East cardinal direction.
White.
In the Chinese spectrum of Yin and Yang, white represents the active masculine energy that's the Yang. In many cultures white is seen as a symbol of purity, however, in China, it is also seen as a symbol of death and mortality. Based on this, the white dragon is seen as a symbol of purity but also as a bad omen for death. It also represents the West and autumn season.
Black.
As the other half of the Chinese spectrum, black represents passive feminine negative energy known as Yin. The black dragon is normally associated with vengeance and power and is often believed to cause storms and floods. In terms of seasons and directions, it is also considered to symbolize the North and the winter season.
Red.
Traditionally, red is associated with good luck and fortune and is often used in many large and happy celebrations in Chinese culture. For this reason, the red dragon is the focus on happy occasions like weddings and festivities like Chinese New Year. Aside from luck the red dragon also symbolizes passion, creativity, and vitality. It also represents the South and summer season.
Yellow.
In Chinese culture, yellow is seen as a symbol of warmth, wealth, solidity, and nobility. It is normally a color set aside for those belonging to the higher class. The yellow dragon was considered the most powerful and superior dragon, which is why emperors used it as a symbol of their rule.
9 Types of Chinese Dragons.
According to Chinese culture and mythology, there are a variety of different dragons. All the dragons have been classified into 9 main categories. The categories are as follows:
Celestial Dragon.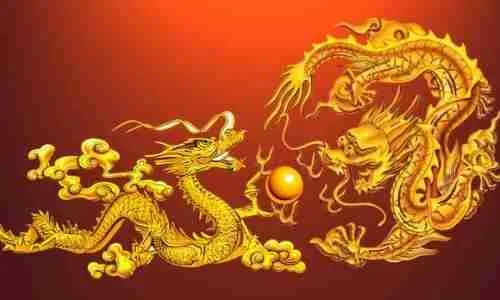 Its Chinese name is Tien Lung. It is a flying dragon that is believed to guard the heavens and pull the divine chariots. It's considered a very important dragon that resides in the sky because its main duty is to prevent the gods from falling from the sky.
Dragon King.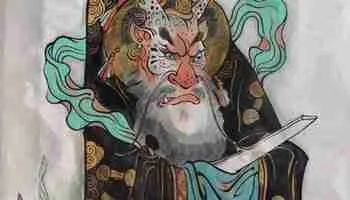 Its other names are dragon god or Longwang. It is considered a very powerful dragon that rules the China sea in all four directions. It is said to appear in different forms but is often depicted as human. It is also a water god with the ability to cause rain and is considered the yang personification of masculine power.
Winged Dragon.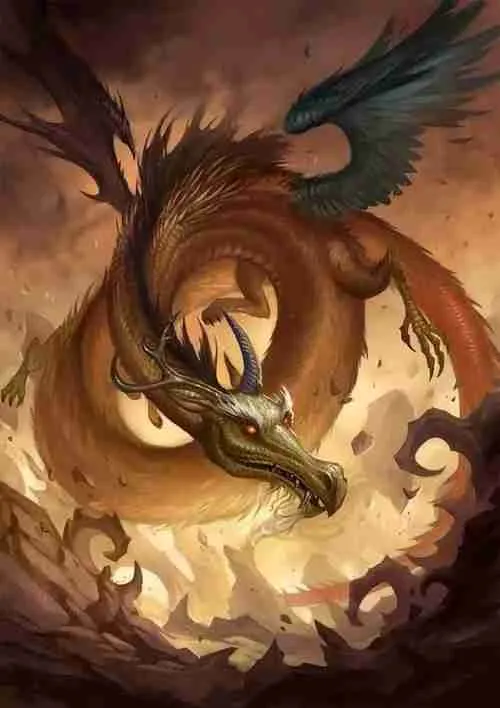 In Chinese is referred to as Yinglong, some also call it the responding dragon. Unlike other dragons, its wings make it unique. It is a water deity, commonly associated with rain and floods.
Hidden Treasure Dragon.
This dragon is referred to as Fuzanglong in Chinese. It is said to be a guardian residing in the underworld where it hoards and protects different types of buried treasure, both man-made and natural. It is also associated with volcanoes since it is said that it forms volcanoes each term it comes out of the underworld to go report in heaven.
Coiling Dragon.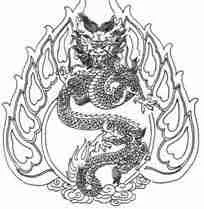 It's also called Panlong in Chinese. It is a lake dragon that is restricted in water and can never ascend to heaven. It is said to be able to control time. Sometimes referred to as river dragon and said to resemble the crocodile.
Spiritual Dragon.
It's blue. It is said to have power over the rain and wind. It has to use the rain and wind to benefit the humans on earth.
Yellow Dragon.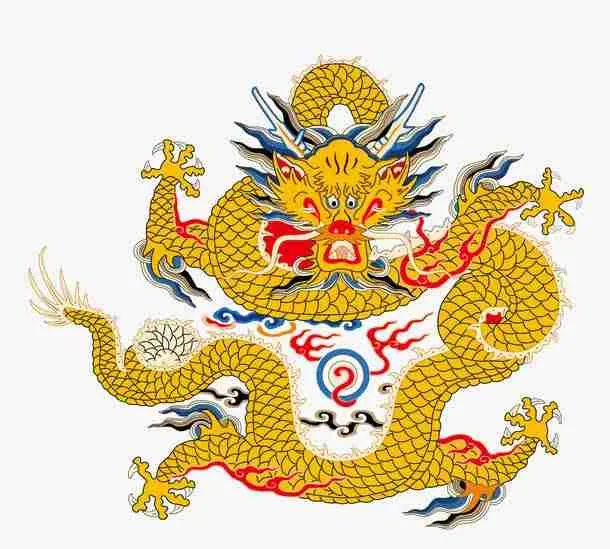 Some people refer to it as Longma the winged horse with scales, that lives in water. It is believed that it emerged from Luo River to teach the emperor Fu Shi the Chinese writing ba gua. Other's refer to it as Huanglong, the dragon reincarnation of the Yellow Emperor.
Horned Dragon.
It's also referred to as Lung in Chinese by some people. It is considered to be the most powerful dragon, despite being deaf. It was, however, never considered evil. It was also believed to have power over the rain.
Hornless Dragon.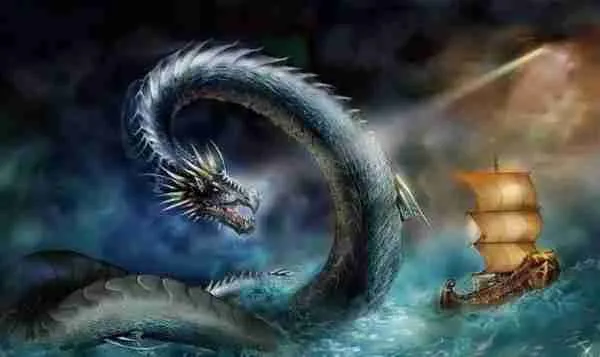 Others refer to it as scale dragon or crocodile dragon or Jiaolong in Chinese. Others call it Il. It is said to commonly give resided in the river, although some say it lived in the oceans. It was said to be the ruler of all aquatic animals.
What Is the Rain Dragon in Chinese Mythology?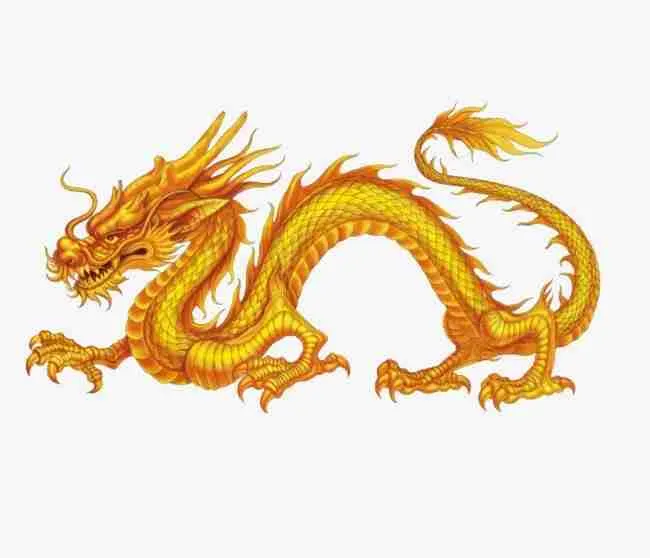 In Chinese mythology, the rain dragon was also referred to as thunder god or a god dragon or Shenlong in Chinese. He is described as having a human head and a dragon body with a drum-like stomach. He is considered to be a significant dragon that has power over the weather. He can control the clouds rains and wind, which all affect agriculture. So, to ensure they had a good harvest, the Chinese would avoid angering the Shenlong. Angering him would mean drought, thunderstorms, and general bad weather.
Why Is Dragon in Chinese Zodiac?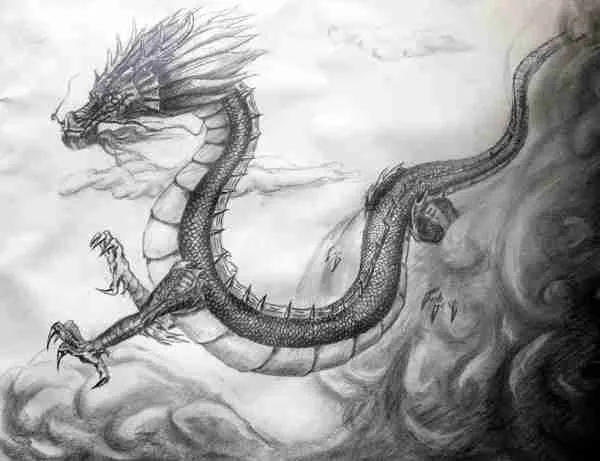 In the Chinese calendar, 12 animals each represent a year in a twelve-year cycle as the Chinese Zodiacs. Each of these animals has certain traits. The Dragon is the 5th animal in the Chinese Zodiac. It is included because it is the only creature that is mythical, hence unique. It is also important as it symbolizes good fortune, good health, prosperity, and balance. As such, dragon years are a popular time when many children are born. It is believed that children born during the Dragon years are said to be lucky and honorable and will grow up to be very successful compared to the rest.
Conclusion.
There is no clear origin of where dragons came from, nor is there proof that they ever existed. Whether fictional or not, these mystical creatures clear hold an important position in Chinese culture. Many Chinese both in and out of China use it as a symbol of identification.