What Is in Chinese Wonton Soup?
Posted On July 7, 2021 / Written by yelang
Chinese wonton soup is a widely recognized dish, not just in China but every where in the world. You can find them being sold off of street carts in different parts of Asia or come across them in the menu in almost any Chinese restaurant in the world. It is normally enjoyed in many different ways depending on where you're having it.
The name wonton is Cantonese and translates to 'eating clouds'. That's because, this popular dish is normally made up of fluffy, cloud-like wontons, a type of dumpling served in clear broth soup. The wonton is usually a thin dough wrapped around a filling and boiled in broth to create the soup. You can however, opt to fry or bake the wontons if you don't need the soup. The dish has an overall delicate taste but is usually full of flavor.
It normally varies based on how its made. Some may use pork bits as fillings, while others may use duck. American versions tend to swap the meat for a healthier vegetable filling. Similarly in authentic Chinese wonton soup, flavored vegetable stock made using mushrooms, celery and shallots. American versions however normally use chicken broth. Usually, the dish can be garnished with either green onions, thin slices of mushrooms or cilantros and served in shallow bowls.
In this post, we are going to cover how you can make this popular delicacy in the comfort of your own home. We'll share with you every step, from how to make the wonton wrappers to the wonton soup itself.
How To Make Chinese Wonton Wrappers?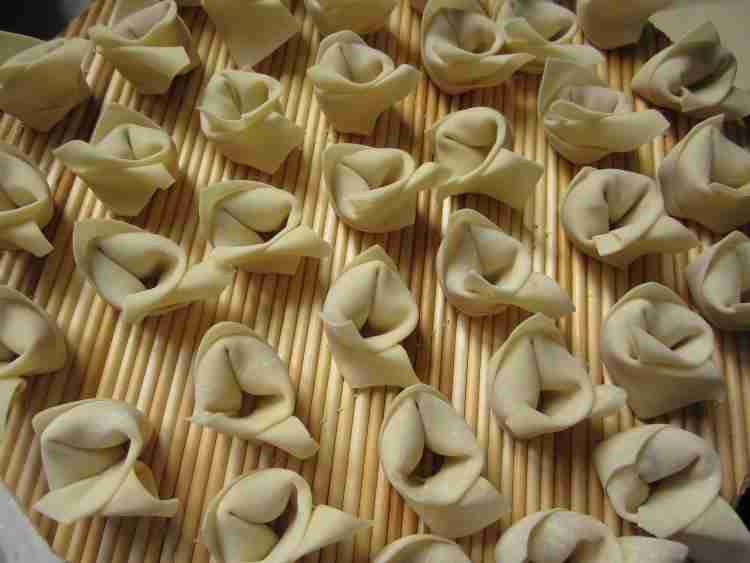 Given how popular the dish is, you can easily find ready-made wonton wrappers stocked in the supermarket. In fact, it is possible to find canned wonton soup as well. But nothing beats a good home cooked meal. Besides, the wonton wrappers are actually pretty easy and simple to make from home. So, you can save money on buying the packaged ones and start making them. To do so, you will need the following ingredients:
cornstarch for dusting the counter top
2 cups of all-purpose flour
½ a cup of water
1 egg
¾ teaspoons of salt
Start by pouring the flour in one bowl and whisking together salt, eggs and water in a separate bowl. From there create a well in the flour and add in your whisked mixture. Mix everything until it all comes together. You can do it by hand or with a spoon. At this point, place the dough on the counter and knead for 3-5 minutes or until the dough is firm but still silky smooth. You can add a little flour to the counter and knead the dough over it if its too sticky. Once the dough is firm enough, cover it with a damp towel and let it sit for an hour. This will make it easier to roll into thin layers. After an hour, divide the dough into two and leave one half covered with the damp towel. Lightly dust your countertop with cornstarch and not flour since the flour will be absorbed and make the dough gummy. Now you can roll out the dough as thinly as possible in a rectangular shape. From here you can cut the dough into 3'' squares and repeat the same process for the other half of the dough.
In those simple steps, your wonton wrappers are ready for use or you can freeze them if you're not planning on using them immediately. To freeze them, dust each wrapper generously with cornstarch before stacking them together. Wrap them in a plastic wrapper and place them in an airtight container before leaving them in the fridge. They'll be good for use for up to 3 months when frozen.
The beauty about wonton wrappers is they aren't only used for making wontons. You can use them to make egg rolls (just cut the squares 2" bigger). You can also use them to ravioli, origami, pizza rolls or crab Rangoon. It all depends on the shape and size of the square.
How To Make Chinese Wonton Soup?
Once you've mastered making the wonton wrappers, making the soup is even easier. So, why take canned wonton soup, when you an have freshly made, wonton soup that's full of flavor and made to your liking?
Before we get into how to make the soup, there are a few things to note. To begin with, the filling you choose to use for the wontons is dependent on your preference. The most common fillings used are pork and shrimp. If you're a vegetarian or simply want a healthier option then you can use vegetables instead. Prepare the fillings how you'd usually prepare them, with your preferred seasonings. Ensure, however, the pork and/or shrimp is ground or the vegetables are finely cut.
Once you have your wrapper and filling ready, wrapping it isn't as complicated. Simply place the filling at the center of the rectangular wrapping. Pick up one end of the rectangle and place it over the end that's diagonal to it and press down to secure it. You should have a triangular shape at this point. Finally lift the bottom sides of the triangle and pulls them towards each other with one side over the other. Now your wontons are ready to be cooked. Boil them in water for four minutes or until they start floating and then remove them from the water. You can also freeze the wontons at this point, by compactly packing them in an airtight container.
Now all that is left is to prepare the broth that you will use as your wonton soup. For that you will need the following ingredients: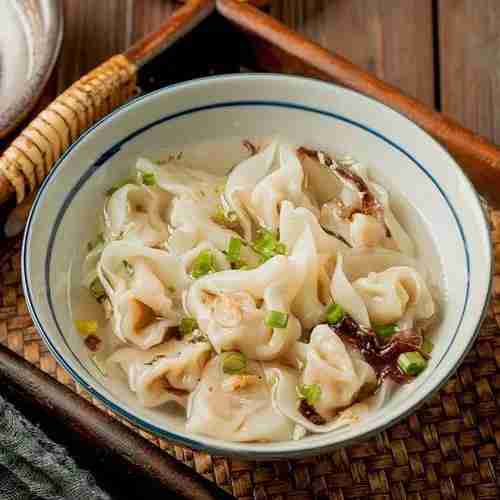 ¼ teaspoon of sesame oil
1½ tablespoon of light soy sauce
1½ tablespoons of Chinese cooking wine
3 cups of chicken broth
2 teaspoons of sugar
2 smashed garlic cloves
1 cm piece of sliced ginger
Place all the ingredients in a saucepan over high heat. Cover and bring to a boil, them reduce the heat to medium and let it simmer for 5-10 minutes. This gives the ingredients enough time to infuse into the broth. After that take it of the heat, and filter out the garlic and ginger. Serve in a bowl and ladle with the cooked wontons. You can also garnish it with green onions and shallots. Or blanch vegetables and add them to the broth if you would prefer it.
Conclusion
By following these simple recipes we've shared, you should be able to enjoy the world-famous wontons freshly made from the comfort of your home. No more store bought canned wonton soup, or going out to a restaurant each time you crave some.