What Seafood Do Chinese Eat
Posted On July 11, 2021 / Written by yelang
The Chinese are said to eat all sought of seafood including, turtle, shrimp, tilapia, prawns, squid, and all kinds of shellfish among others. They have come up with great recipes for preparing all manner of seafood to come up with tasty seafood dishes. Fish has a light flavor, so the Chinese tend to add ingredients to it to enhance the taste. Some of the common ingredients include ginger, garlic, chilis, and salt. The fish can be cooked whole or cut up into pieces, but the bones are rarely fully removed, so you should be careful while eating. The Eastern part of China is especially known for its cuisine that is characterized by sweet light dishes that are mostly seafood-based.  
To fully understand Chinese seafood cuisine, we will go in-depth and discuss some of the popular seafood dishes in China. We will also share with you a few Chinese seafood recipes you can try at home as wells.
Types Of Popular Fish Dishes in China
If you visit different Chinese restaurants you will come across fish dishes made in different ways. Some will be boiled, fried, or oven-baked, whole, or in pieces. They can also be served with different things like rice or noodles. The following are some of the different Chinese fish dishes you're likely to come across:
Boiled Fish with Pickled Cabbage and Chili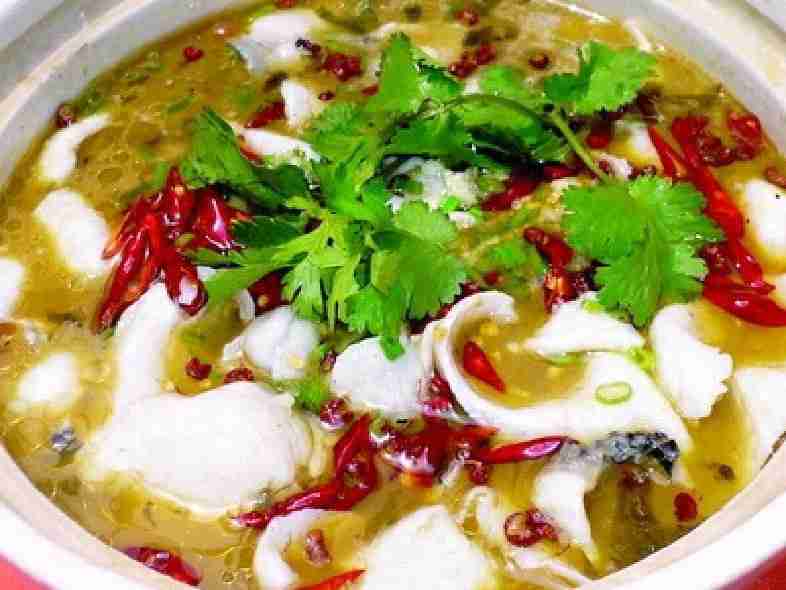 This is a classic fish dish that has a spicy and sour flavor thanks to the sour Chinese pickled vegetables and chili added to it. It is a popular dish in Chongqing, Sichuan province. The type of fish used for this dish is normally the snakehead or the grass carp. The fish is cut into small pieces and boiled with vegetables. Rice is a great accompaniment for it, although you can take it as soup.
Steamed Perch
This is a traditional dish that originated from the Guangdong province and is now widely prepared all over China. A lot of Chinese like it for its nutritional value. It also doesn't require any expert cooking experience to prepare. All you need is to season the perch fish with soy sauce and salt and steam it. You can then serve it garnished with chili peppers, green onion, and coriander.
West Lake Poached Fish
This is a popular traditional dish that is mainly prepared in Hangzhou. It is said to have originated from the Song Dynasty and has a long history. The fish used for this dish is grass carp. It is normally boiled and then covered in tempered sweet and sour sauces. The resulting taste is normally, fresh, sweet, and sour with a peasant tenderness.
Braised Fish Blocks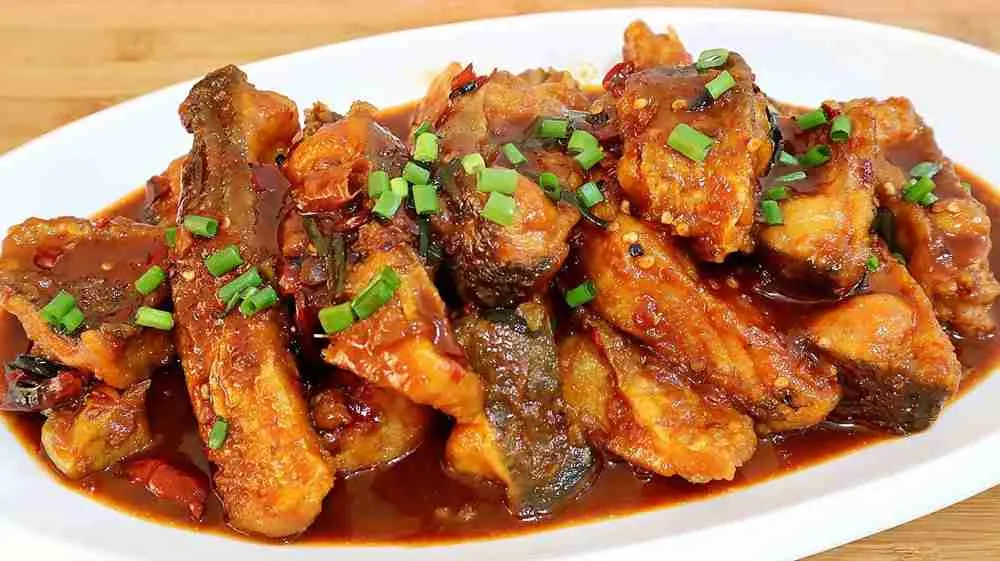 This is the most versatile and common fish dish prepared in China. Any type of fish can be used for this whether it's catfish, crucian, grass carp, or any other. The kind of seasoning used is also based on your preference. Normally, the fish is first pan-fried and then the preferred seasoning and water are added to create the stew.
Sweet and Sour Mandarin Fish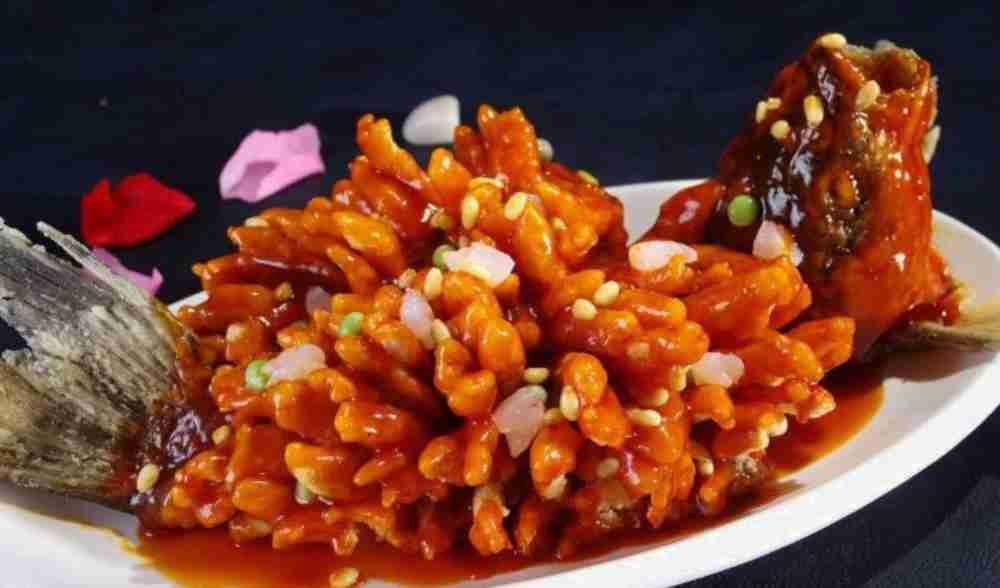 This is one of the top ten classic dishes in Suzhou and is also nicknamed squirrel mandarin fish because its fluffy appearance resembles a squirrel's tail. To prepare the dish first the mandarin is deboned and cut into the shape of a flower. It is then marinated with preferred seasoning and deep-fried. From there sweet and sour juices are poured over it and the dish is ready to serve.
Steamed Turbot
This is another popular traditional dish in the Guangdong province's fish diet. It involves steaming the turbot fish with minimal seasoning and serving it garnished with vegetables of choice or chilis. It is also considered highly nutritious.
Fish Fillet in Hot Chili Oil
This dish originated from Chongqing and has now become one of Sichuan's most popular dishes in its cuisine. The type of fish used in this dish is carp or black carp. The fish is first cut into small pieces and boiled until halfway cooked. It is then placed into a dish with a variety of side dishes and hot oil is poured into it. The dish is passed through two short heat sessions to ensure the tenderness and flavor of the dish are maintained. A must ingredient in this dish is the Sichuan pepper for the authentic color smell and taste.
How To Cook Chinese Seafood?
Fish is not the only seafood enjoyed by the Chinese. As we mentioned they also eat squid, shellfish, shrimp, and even turtles. Now that you've seen the different ways fish dishes are prepared in China, we want to share with you two simple but popular Chinese seafood recipes you can try at home. They are as follows:
Deep-Fried Squid with Salt and Pepper Mix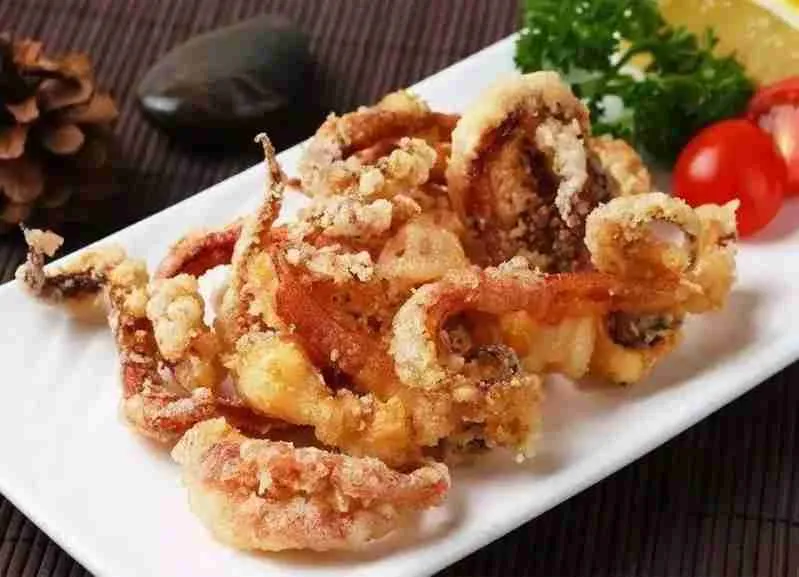 What you'll need for this recipe:
2 lbs. of clean whole squid
3-4 cups oil
1 cup all-purpose flour
1 egg
3/4 cup water (ice cold)
3-4 tsp. freshly ground Szechuan peppercorn
2 tbsps. salt
Cilantro leaves to garnish
Once you have all the ingredients laid out, place a heavy skillet on medium-low heat, and add the salt and Szechuan peppercorns. Cook while shaking the pan occasionally, until the salt turns a light brown color and the peppers are fragrant. From there remove the skillet from the heat and allow the salt and pepper to cool to room temperature. Once they're cool grind the mixture with a mortar and pestle or in a blender and set aside. In a separate small bowl, stir the egg into the ice water. Add in the flour to it and stir to form a thick, lumpy batter. Be careful not to overmix, it should look like a pancake batter. Now heat the oil in a heavy bottom pot over medium-high heat until 360 F. Once you're certain of the oil's temperature, dip the squid tubes and tentacles into the batter, to coat the squid pieces, and add the coated squid to the oil. Deep-fry until golden brown and crispy, then remove the pieces and drain the excess oil. Finally garnished with the coriander leaves, and serve with a salt and pepper mix for dipping.
Kung Pao Shrimp
For this classic recipe you will need the following ingredients:
1 lb. shrimp
1 egg white
1 1/2 cups of oil
1/2 cup of cashews
3 tbsps. chicken broth
1 tbsp. soy sauce
2 tsp. chili paste or 6-8 small red chilies
2 tsp. cornstarch
1 tsp. minced ginger
1/2 tsp. granulated sugar
1/2 tsp. salt
Start by shelling and deveining the shrimp and then cut its length in half. In a separate bowl, lightly beat the egg white and marinate the shrimp with the salt, egg white, and cornstarch for 15 minutes. In another separate small bowl, combine the soy sauce, vinegar, chicken broth, and sugar and set the mixture aside. In a pan heat the oil, and add the shrimp once the oil is hot. Cook until the shrimp turns pink and remove from the heat. Reduce the oil in the pan by 2 tablespoons, and add the chili peppers or chili paste. Stir for a minute, then add the minced ginger and keep stirring for about 15 seconds or until it is aromatic. At this point add the cashews and stir for about 1 minute. Now make a well in the middle of the pan and add the sauce. Heat for a brief moment, then mix the sauce and the cashews. Add the shrimp back into the pan now and cook for 1 more minute. Remove from the heat and serve while hot.
Conclusion.
Generally, Asians are said to love consuming seafood, but the Chinese are the leading country when it comes to seafood consumption. China is number one in the world with the largest seafood consumption footprint of 65 million tonnes. For them, anything that's been pulled out of the sea is edible. So, if you're looking to try a variety of delicious seafood dishes, China should be your next travel destination.