What Is Zha Jiang Mian?-Fried Sauce Noodles
Posted On May 5, 2022 / Written by yelang
One of the most important parts of the culture in China is the Chinese Cuisine, which possesses unique features and comes in numerous styles. Among the most famous dishes in China is Zhajiangmian, which we will extensively discuss in this write-up.
What is Zha Jiang Mian?
Full of flavor, freshness, and aesthetics, Zhajiangmian is one of the signature dishes in various parts of North China. When translated, the word 'Zhajiangmian' means 'Fried Sauce Noodles' or 'Noodles served with bean sauce that is well fried, also known as mixed sauce noodles. It comprises three major components: freshly cooked noodles, ground pork or beef fried and then simmered in a dark, thick, and salty soybean paste, and various types of vegetables. The vegetables often serve as a topping for the noodles and are usually fresh or pickled. Some of these vegetables are pickles, radish, and cucumbers. Depending on the region where Zhajiangmian is prepared, extra firm tofu or chopped omelet is sometimes added to the dish. Those who prefer low-fat dishes, on the other hand, prefer to use minced skinless chicken in place of pork and beef when making Zhajiangmian. 
Zhiajiangmian History/Where is Zhajiangmian from?
Ideally, Zhajiangmian traces its origin to Shandong province, and as we mentioned earlier, it is a signature dish among the Northern Chinese. During Emperor Guangxu's reign in the Qing dynasty and right after the Eight-Nation Alliance invaded China and successfully conquered Beijing, the emperor, Empress Dowager Cixi, and their escorts were left with no choice but to retreat from Beijing to the city of Xi'an. Amid their journey, Li Lianying – the Imperial Eunuch, detected a pleasant aroma and decided to trace its origin. In the process, he found that it came from the Zhajiangmian restaurant nearby and reported his findings to the emperor and his empress. Because they were all hungry and exhausted, they decided to stop over and have a meal. The Imperial Eunuch ordered vegetarian Zhajiangmian, and shortly after, everyone around him found the dish tasty and commended the chef for it. When they were leaving, empress Cixi demanded that the Imperial Eunuch bring the chef along to Beijing so that he could make the meal regularly at the palace. Supposedly, this is how Zhajuangmian became a signature dish in Beijing. This occurred alongside the spread of Old Beijing Noodles with Fried Bean Sauce and Bean Paste Noodles across the region. 
How to make Zhajiangmian
In general, there are several types of Zhajiangmian across different parts of China. Regardless, they are all prepared in the same manner, with a little difference in the ingredients used in their preparation. The table below gives a summary of the various types of Zhajiangmian in China.
| | |
| --- | --- |
| Type of Zhajiangmian | Commentary |
| Shandong | Made with Tianmianjiang and is considered the standard in all Chinese regions. |
| Beijing | The sauce is made from Tianmian sauce and yellow soybean paste. It is the most popular version across China. |
| Sichuan | In this case, ground meat is used in place of diced meat. Also, a hot savory sauce known as doubanjiang is added to the sauce, and it is often more watery and less salty than the Zhajiang sauce. |
| North East China | You would popularly find the Egg Zhajiang and Egg and Green Chilli Zhajiang. Both do not contain meat and the Zhajiang sauce is fried with Dajiang sauce, which is made entirely of soybean and brine. |
| Cantonese | To ensure a sweet, sour, and spicy flavor, ketchup and chilli sauce are added to the base. |
| Buddhist | Smoked Tofu or eggplant is used in place of ground beef or pork |
To make any of the Zhajiangmian varieties above, you should follow these easy steps;
In a small bowl, combine a tablespoon of Hoisin or Tianmianjiang sauce, three tablespoons of soybean sauce, a tablespoon of cooking or Shaoxing wine, and a teaspoon of sugar, and a tablespoon of dark soy sauce to make the sauce (Zhanjiang) that you will use later on.
Over medium-high heat, pour two minced shallots, two tablespoons of vegetable oil, and minced garlic cloves into a frying pan or wok, then let them cook up for about 5 minutes until they are slightly brown towards the edges. 
Once brown, add about a 1/4 cup of ground pork, beef, or chicken. As you stir your meal, add the Zhanjiang sauce that you made at first. Keep stirring until it is all dark and sticky before adding a cup of water. When the sauce starts bubbling, turn the heat to its lowest setting.
Simmer for about 20 minutes until reduced. At this point, the sauce should be shiny and thick like gravy. Afterward, pour the sauce over a bowl of wheat flour noodles. 
Once done, garnish with fresh vegetables. You can use vegetables such as carrots, blanched bean sprouts, cucumber, radish, and slivered scallions. The whole idea is to ensure that you find the right balance of saltiness, sweetness, and savory.
Zhajiangmian vs. Jajangmyeon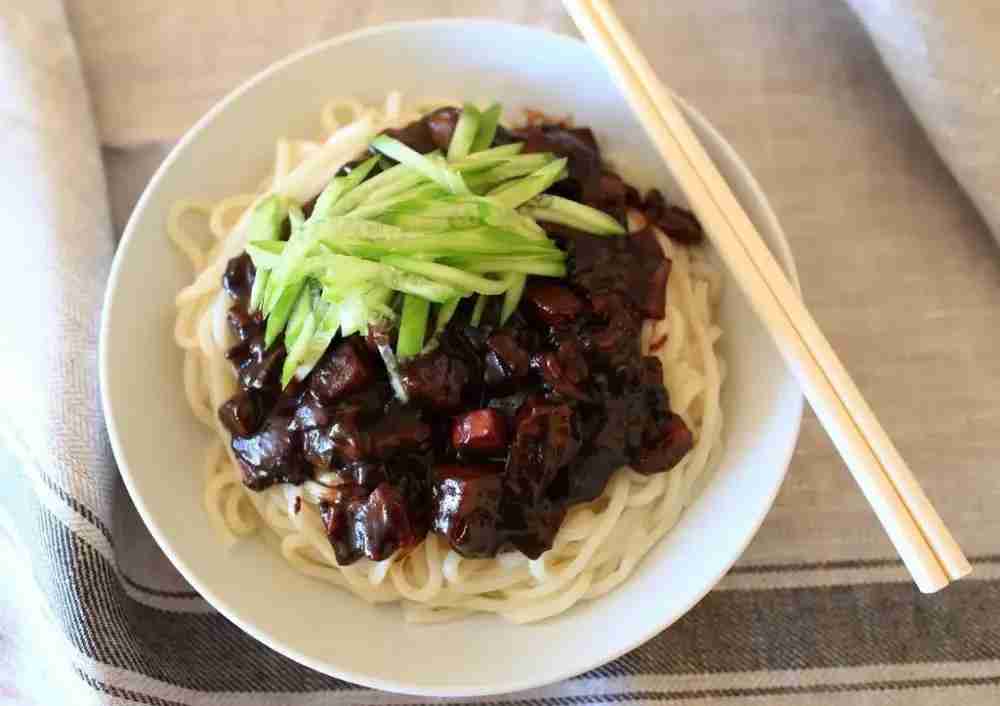 While Zhajiangmian and Jajangmyeon offer a great balance of sweet, savory, and salty, they have different recipes. The common feature between the two, however, is seen in the fact that they both use meat portions (Could be pork, beef, or chicken), long wheat noodles and a sauce that is entirely made from fermented soybean paste. The table below summarizes the differences between Zhajiangmian and Jajangmyeon.
| | | |
| --- | --- | --- |
| Comparison Feature | Zhajiangmian | Jajangmyeon |
| Origin | Shandong Province + Northern Region of China | South Korea (made by the Hwagyo- who were Chinese immigrants from Shandong) |
| Type | Chinese Version | Korean Version |
| Sauce | Made from Tianmianjiang, which is a sweet soybean sauce | Made from a Tangy sauce known as Korean Chunjang, which is a black bean paste |
| Consistency | The sauce is dark and thick | The sauce is very shiny and viscous |
Conclusion
To date, Zhajiangmian remains a signature dish in China and other East Asian countries.  It is greatly treasured by locals and immigrants alike, and it is valued for the fact that it doesn't take too long to prepare. Further, you would enjoy the mix of sweet, salty, and spicy flavors that the Zhajiangmian has to offer.