What Is A Chinese Rolling Pin?-Gan Mian Zhang
Posted On January 4, 2023 / Written by yelang
A Chinese rolling pin is a wooden cylindrical utensil to press or flatten dough. There are many different sizes made from different materials. This article teaches you more about the Chinese rolling pins, their use, origin, and how they are made. Read on!
What is a rolling pin?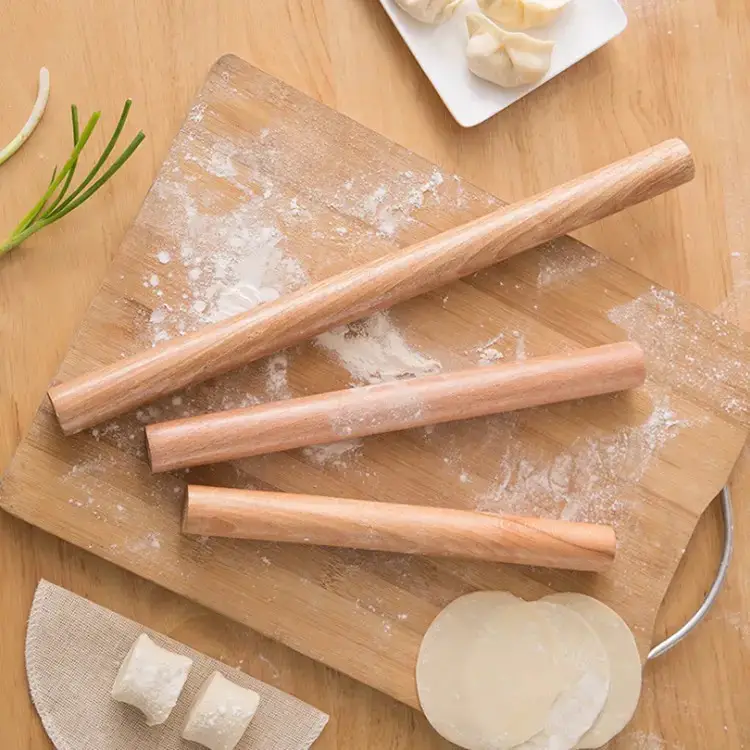 A rolling pin is a cylindrical shaped food preparation utensil mainly used to flatten dough. Rolling pins are mostly made of wood, glass, acrylic, porcelain, aluminum, stainless steel, brass, and many others. They come in different shapes and sizes depending on different cultures. Some are usually thick and cylindrical at the center, with handles at the ends; others are flat at the center but thin and tapered on the ends. The size and type of rolling pins mostly depend on the user's needs or preferences. Let's look at a few types of rolling pins.
Rod– This is usually made of wood 1-2 inches in diameter. They are thin and tapered at both ends.
Roller- It is wider, 3-4 inches in diameter. They are used to make more dough and are common in the western regions.
Textured- These rollers have marks embedded or writings engraved in them. They make indents on the dough during the preparation.
Chakla began- Indians mostly used them to make Indian cuisines. The rolling pin comes with a flat rolling surface used to make chapatis. The surface is known as the chakra.
What is a Chinese rolling pin made of?
Chinese rolling pins are usually made of wood. They are small and smooth, making them easier to handle when preparing the dough. Also, they are 10-12 inches and mostly 1 inch in diameter.
They come in different shapes and sizes, and materials, depending on the kind of food you wish to prepare. A fast-growing alternative to Chinese rolling pins is the Bamboo rolling pin. They are lightweight, firm and durable, and easy to use. Also, they are perfect for rolling small dough and have easy maintenance. However, the size and material mainly depend on the buyer's preference. However, having a wide collection of rolling pins eases your hustle when preparing food.
What is a Chinese rolling pin used for?
Chinese rolling pins are used to prepare many delicacies. Small pins are used to roll out small pieces of dough to make dumplings; the bigger rolling pins make bread, pies, pizza, rolls, pies, and many other pastries.
How Chinese rolling pins are made
Chinese rolling pins are made using wood. Small pieces of wood are assembled and put together. Then, measurements are made depending on the size of a rolling pin you wish to make. Then, the wood is gritted using sandpaper, 120 grit and 300 grit, respectively. Once it is smooth enough, the excess dust from the gritting is wiped, and oil is applied to the dowel.
After applying oil, it sits for a while and then grits again. Once this is done, the rolling pin is very smooth. Mineral oil is applied again and left to sit once again overnight. After this, the rolling pins are ready to use.
It is important to note that the best wood to use when making a rolling pin is maple and beech,
Chinese rolling pin history
Who invented the Chinese rolling pin?
In China, the idea of the rolling pins was invented by the Etruscans, who were an ancient Italian civilization. They are believed to have made the first rolling pin, which was simple and wooden.
When were the Chinese rolling pins invented?
The Chinese rolling pins are said to have been invented in the 19th century alongside pottery and stoneware.
Conclusion
Chinese rolling pins are important utensils in Chinese kitchens as they are used to make many cuisines. They include dumplings, bread, and pastries. It is almost impossible to find a Chinese home without one.